Simplifying Release of Information
For Medical Professionals
Arctrieval enables healthcare facilities and providers to expertly manage the release of protected health information, enhance the patient experience, and save 36% or more on costs by:
Providing patients, providers, and staff with a web-based, user-friendly, step-by-step process to request and release PHI.
Organizing requests, correspondence, and PHI in a central location for release with real-time status updates, so nothing is missed.
Automatically sending email notifications and status updates to the requestor.
Securely delivering records in an electronic file format.
Maintaining a secure audit trail for all communications and activities.
Enhance the patient experience, improve productivity, and cut costs by 36% or more

Liberate Your Day
Arctrieval frees up time to focus on what matters most, "the patient." With Arctrieval, your office staff spends less time explaining the request process, less time handling paper forms, and less time providing updates. We eliminate long telephone calls to provide basic information. All request information is provided through Arctrieval's web-based interface freeing up your staff to focus on patient care and revenue-producing activities.

Multiple Language Support
Eliminate any errors due to language issues. Arctrieval removes communication barriers by providing user interfaces and forms in multiple languages. Arctrieval presents web pages and dialogs in the patient's native language and problems from communication failures.

Integrated Billing Module
With an integrated billing module, Arctrieval makes collecting fees for record production and delivery fast, simple, and efficient. Once a request is ready for delivery, Arctrieval generates and sends an invoice to the requestor. The secure online payment engine handles payment processing, and after it is received, Arctrieval securely delivers the document.

Secure Document Delivery
Eliminate security issues and costs for document delivery. Arctrieval guarantees safe medical document delivery through its secure transfer network. Instead of creating and mailing paper documents or computer media, upload documents to Arctrieval for electronic delivery. Arctrieval creates a safe, password-protected PDF file that can only be opened by the intended recipient.

Improve Productivity
Arctrieval provides patients, healthcare providers, and hospital staff with a smooth, secure, step-by-step process to request and release protected health information. Since 2013, Arctrieval has successfully helped healthcare providers simplify their release of information workflow and exceed industry productivity benchmarks by 36%.
The clear way to manage and track the release of protected health information
Self-service request submission
Patients or anyone requesting medical records fill out an easy-to-understand web-based form. Arctrieval captures all the necessary information for a valid, accurate, and complete request.
Automatic notifications and updates
Email notifications and updates guide your office staff and requestors through each step of the process, and keep everyone informed about the request progress.
Easy-to-use and understand user interface
Anyone can use and master Arctrieval's release of information software without extensive training.
Integrated billing system
Collecting fees for producing medical records is simple. Click the create invoice button, review the amounts, press the send button, and Arctrieval manages the invoice delivery and notifications.
Payment processing and collections
Arctrieval manages and tracks all invoices, payment processing, and credits the monies collected to your bank account.
Complete audit trail
After the records are delivered, Arctrieval continues to work for you. We maintain the history for every activity or change for each request. If there is ever an issue, Arctrieval has all the necessary information for the entire chain of custody.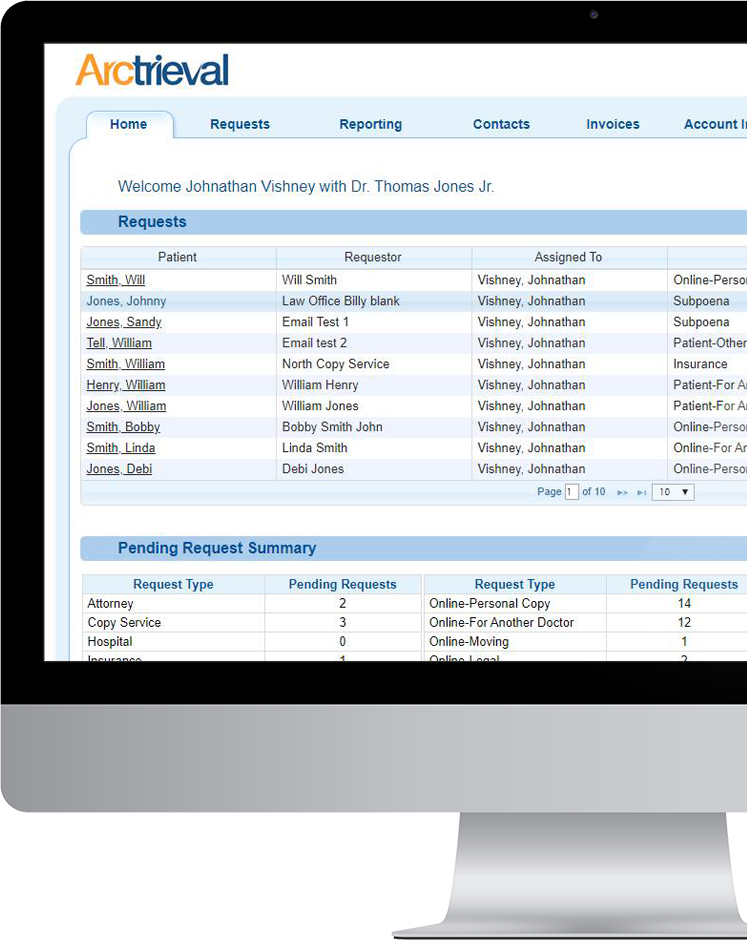 Subscription Options and Pricing
| | Essentials | Plus | Advanced |
| --- | --- | --- | --- |
| Number of Users in the Practice or Facility | 1 User | 5 Users | 10 Users |
| Monthly Request Volume | Unlimited | Unlimited | Unlimited |
| Online Request Submission | | | |
| Digital Signature Capture | | | |
| Custom Correspondence, Forms and Letters | | | |
| Custom Labels | | | |
| Secure Electronic File Delivery | | | |
| Integrated Billing and Payment Processing1 | | | |
| Sales Tax Calculation, Collection and Remittance | | | |
| Document Storage Repository2 | 1GB | 5GB | 12 GB |
| Monthly Fax Volume3 | 150 | 500 | 1,000 |
| Total License Cost for the Practice or Facility | $139/month | $239/month | $449/month |
| Optional Implementation, Change Management & Training | One-time $339 | One-time $539 | One-time $739 |
1 Arctrieval retains a portion of the allowable fees for the transaction processing.
2 Additional storage beyond the included amount is available at the rate of $2.00 for each partial or full Gigabyte used.
3 Additional fax pages beyond the included volume is available at the rate of $0.06 for each page sent or received.
Note: Arctrieval supports Chrome, Edge, Firefox and Safari browsers.
Learn more about our solutions